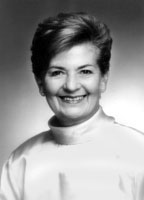 SuEllen Fried is the co-author of Bullies & Victims – Helping Your Child Through the Schoolyard Battlefield and Bullies, Targets & Witnesses – Helping Children Break the Pain Chain with her daughter, Paula Fried, Ph.D. As an international speaker on the topic of child abuse and neglect, she has worked with more than 70,000 students and thousands of teachers and parents on the subject of bullying prevention and intervention.
She founded the Kansas Committee to Prevent Child Abuse in 1976 and served as president from 1976-80, the model chapter for the national organization. She served as Chairman of the Board of Prevent Child Abuse America from 1980-82. She also served on the Board of Parents As Teachers, National Center from 1987-2003.
Fried attended Washington University, St. Louis, Mo., and received a B.A. in Creative Arts and Mental Health from Park University, Parkville, Mo. She earned the Academy of Registered Dance Therapists (A.D.T.R.), a master's degree equivalency from the American Dance Therapy Association and worked as a dance therapist in the Kansas City area for 20 years.
She was a member of the President's Task Force on the Mentally Handicapped and as a consultant to the National Institute of Mental Health. She participated in the Surgeon General's Task Force on Family Violence and founded STOP Violence! in 1982.
For her volunteerism in Kansas prisons, she received the Karl Menninger Award from the Kansas Department of Corrections in 1989. She continues to serve as a volunteer in the self-help program for inmates that she founded at Lansing (Kan.) Correctional Facility in 1982.
Other awards include being named as President George H. Bush's 900th Point of Light in 1993, University of Missouri Community Service Award in 1997, Park University Alumnus of the Year in 1990, the Yates Medallion Award from William Jewell College in 2003.
She has been married to Harvey Fried for 52 years. They have three children and seven "miracles" as she describes her grandchildren.