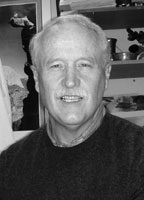 Dr. Fred Mihm is professor of anesthesia at Stanford University Medical School. His major area of interest is Critical Care Medicine and running a busy university intensive care unit. He also cares for complex medical patients requiring high-risk anesthetics and surgery. He has particular interest in a rare life-threatening endocrine tumor (pheochromocytoma) that is associated with serious anesthetic complications. His early interests in medicine were cultivated in Springfield, Mo., while he attended Evangel University and worked part-time at Cox Medical Center with pathologist Dr. Paul Quinn and others. After medical school training at Saint Louis University, postgraduate training in internal medicine followed at the University of Southern California and the University of California, Irvine campus. Then he changed tracks into anesthesiology at Stanford University. He finished his training with a fellowship in Critical Care Medicine at Stanford and Harvard Universities. He has been on the anesthesia faculty at Stanford and associate medical director of the intensive care units since 1979, and has published more than 50 articles or book chapters.
Aside from his routine academic duties, he has enjoyed volunteering at the San Francisco and San Diego Zoos and the Gorilla Foundation, located in Woodside, Calif. He has assisted in the anesthetic management of many rare and exotic animal species, including gorillas, giraffes, lions, tigers and elephants over the past 25 years.
He also has participated in short-term medical missions to under-developed countries of the world, including Central and South America, Africa and Southeast Asia. During these adventures he has provided anesthesia for life-changing plastic/reconstructive surgery for the poor. His most recent trips were to Bolivia, Bangladesh and China. These experiences are a poignant connection with the rest of the real world.