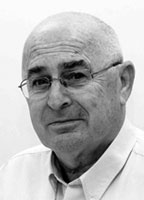 Born in Poland at the outbreak of WW II, Mark Spigelman spent the first years of his life hiding and fleeing from people whose sole ambition, apparently, was to take his. Following the war, Spigelman's family migrated to Australia. He received his M.B. B.S. from Sydney University and his F.R.C.S. from the Royal College of Surgeons-London.
After 25 years as a consulting surgeon in Sydney, Australia, Spigelman turned his attention to another passion - archaeology and anthropology. He earned a B.Sc. in Archaeological Science from the Institute of Archaeology UCL-London and began his research.
Currently Spigelman divides his time as a visiting professor between labs at The UCL Medical School in the U.K. and the Hadassah Medical School in Israel as a human remains specialist/anthropologist, researching the history and development of microbial diseases utilizing microbiological techniques on ancient human remains.
Since becoming an archaeologist/anthropologist, Spigelman has concentrated on the study of Paleomicrobiology and developing relationships between microbial diseases of the past and the diseases of today. He has developed extensive techniques for minimally destructive sampling of human remains, particularly endoscopic sampling of mummies. He has lectured on the subject worldwide and his work has been featured in many documentaries, including for the National Geographic, Discovery Channel and ABC, as well as in many magazine and newspapers. Spigelman is involved in joint projects with more than 20 museums and universities worldwide. Primarily concentrating on tuberculosis and leprosy, his research has uncovered Leischmania, Malaria and Schitasoma in ancient tissues, as well as other bio-molecules such as proteins and lipids. The aim of the research is to gather information from disease and individuals from the past to help understand modern disease trends and therapies.