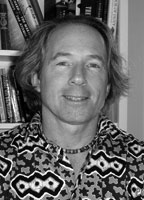 Professor Caleb Rossiter joined the School of International Service faculty at American University in 2002 following a 20-year career as a practitioner of foreign and military policy. He served first on the staff of the congressional Arms Control and Foreign Policy Caucus, then as the director of the advocacy group Demilitarization for Democracy, and finally as a consultant to a number of Washington-based non-governmental organizations, including the Vietnam Veterans of America Foundation, Peace Action and the Center for International Policy. Dr. Rossiter helped plan and direct the "No Arms to Dictators" Code of Conduct campaign and co-founded the U.S. Campaign to Ban Landmines.
At American University, Rossiter has taught African Civilizations, International Relations Research and Quantitative Analysis in International Relations. During 2004-05 he was based in Cape Town, South Africa, serving as director of the AU Abroad program there and teaching at the University of the Western Cape.
He received his Ph.D. from Cornell University, and has written books on the political uses of U.S. foreign aid in Africa and on the movement against the Vietnam War.