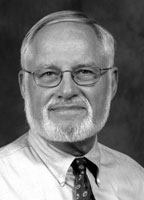 John (Jack) Glaser is senior vice president of the Theology and Ethics Department and director for the Center for Healthcare Reform for the St. Joseph Health System in Orange, Calif. Prior to his posts at St. Joseph Health System, Glaser held positions as director of ethics for the Sisters of Mercy Health Corporation; vice president of Mount Carmel Mercy Hospital, Detroit; and professor of theology and religious studies at the University of Detroit and at St. Mary of the Lake Seminary, Mundelein, Ill. He also spent several years as a psychotherapist in private practice.
Glaser holds graduate degrees in Philosophy, English Literature, Psychology and Theology. He earned his Doctor of Theology at the Professional School of Philosophy and Theology in Frankfurt, Main, Germany.
He has authored three books, several dozen articles and a score of videotapes, poetry and photographic work.
He was a Jesuit for 20 years. He is now married to Mary Ellen Glaser, an educator and social worker. He and Mary Ellen have two children: Brian and Meg. They live in Santa Ana, Calif.