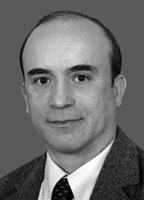 Said Ahmed-Zaid was born in Algiers, Algeria, in 1956. He received his B.S., M.S., and Ph.D. degrees in Electrical Engineering from the University of Illinois at Urbana-Champaign in 1979, 1980 and 1984, respectively. Dr. Ahmed-Zaid is a naturalized U.S. citizen married to Andrea Jean Swengel for over 21 years.
After a mandatory two-year military service in his home country, he worked as a principal research engineer and project manager for the local electric and gas utility company from 1987 to 1988. He returned to the United States in 1989 and taught at Clarkson University in Potsdam, New York, from 1989-96. He then joined Boise State University in 1996 where he is currently an associate professor of electrical and computer engineering.
Ahmed-Zaid has extensive industry experience as a consultant for General Electric (GE) in Schenectady, NY, the Electric Power Research Institute (EPRI) in Palo Alto, Calif., and the Bonneville Power Administration (BPA) in Portland, Ore. He has written more than 36 refereed journal and conference articles.
Ahmed-Zaid is a member of the Institute of Electrical and Electronics Engineers (IEEE), the American Society for Engineering Education (ASEE), and several engineering honor societies. In addition to having received several teaching and research awards, he also is active in the community and received the 2004 Leadership Award in Human Rights from Hewlett-Packard.