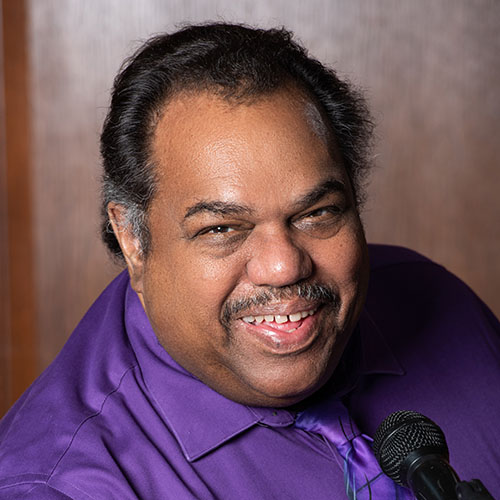 Award-winning conflict navigator, musician and author

Musician Daryl Davis has performed the world over with legends like Chuck Barry and The Platters, but it is what he does in his free time that sets him apart. Experiencing his first encounter with racism at age 10, Daryl formed the simple yet powerful question in his mind, "How can you hate me if you don't even know me?"
The pursuit for an answer led this career performing musician on a surreal journey stemming from a chance encounter with a man who turned out to be a member of the Ku Klux Klan. Seeking to understand, not to change minds or judge, Davis built bridges with leaders from a group that professed hatred for him. Some came to quit the Klan and gave Davis their robes and hoods when they did. In the process, he has unearthed truths about conflict, hate, intolerance and communication that are valuable today.
Daryl's extraordinary journey is chronicled in his first book, "Klan-Destine Relationships" and the 2016 documentary about his encounters, "Accidental Courtesy," frequently shown on PBS and available on Amazon Prime. As a speaker, Davis' impact on audiences is profound – his TEDx talk has over 11 million views. His next book, "The Klan Whisperer" will be released in 2021.
Davis graduated from Howard University with his bachelor's degree in music. He has performed extensively with Chuck Berry, The Legendary Blues Band (formerly The Muddy Waters Blues Band) and many others. While music is his profession, improving race relations is his obsession. He's known to many as "The Rock'n'Roll Race Reconciliator." Davis, who has been to 57 countries on six continents, is often selected by the U.S. State Department as a highly respected expert on race relations and conflict, to present programs in countries around the world dealing with similar situations.
Davis has received many awards for his work in bridging race relations. Among them are the American Ethical Union's prestigious Elliott-Black Award, Carnegie-Mellon's Carl Sagan Award and Prize, Tribeca Disruption Innovation Award, MLK Award, Search for Common Ground Award and Washington Ethical Society Bridge-Builder Award. He's often sought for commentary by CNN, MSNBC, ABC News, Newsweek, The Washington Post, The Atlantic, People magazine and many other media sources.
In addition Davis is the owner of Lyrad Music, a music publishing and licensing business. He's also an actor of stage and screen, and has appeared in HBO's highly acclaimed series, "The Wire" as well as hosts the Changing Minds Podcast.