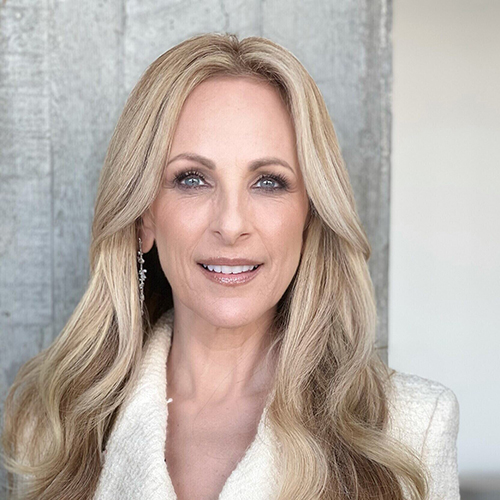 Actress, producer and advocate

LIVE AND IN-PERSON AT JUANITA K. HAMMONS HALL
No ticket required
Marlee Matlin received worldwide critical acclaim for her film debut in Paramount Pictures' "Children of a Lesser God," for which she received the Academy Award for Best Actress. At 21, she became the youngest recipient of the Best Actress Oscar and only one of four actresses to receive the honor for her film debut. In addition to the Oscar, Matlin received the Golden Globe Award for Best Actress in a Drama. In 2021, she was nominated once again as executive producer for the short film, "Feeling Through." Her Apple TV+ film "CODA" was nominated for three Academy Awards, including Best Picture. Marlin broke another barrier once again when she and her CODA cast became the first deaf actors to be recognized as Best Ensemble in a feature film from the Screen Actors Guild Awards.
In 1994, President Bill Clinton appointed Matlin to the Corporation for National Service and in 2010, she joined President Barack Obama at the White House in ceremonies celebrating the 20th anniversary of the Americans with Disabilities Act.
Matlin has starred in many television shows, such as "Law and Order SVU," "Picket Fences," "Seinfeld" and "The Practice," garnering four Emmy nominations along the way. In 2015, she made her Broadway debut in the Tony nominated revival of Spring Awakening.
She has dedicated her life not only to help deaf and hard of hearing people, but also those struggling with domestic abuse and addiction.
In 2012, she released "Marlee Signs," the first celebrity-driven app teaching the basics of American Sign Language on mobile devices.
Matlin has authored her New York Times bestselling autobiography, "I'll Scream Later," and three novels for children.
Despite the odds, Matlin's journey is an inspiration to everyone, regardless of the barriers they face. She has refused to let the naysayers get in the way of her dreams of success. As she so aptly stated, "The only thing I can't do is hear. The rest is there for the taking."
Sponsored by: Missouri State's Foundation with support from KY3/KSPR, Springfield's NBC/ABC TV affiliate.