Christopher S. "Kit" Bond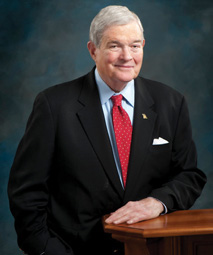 Over the course of 40 years of distinguished public service, Christopher S. "Kit" Bond earned a reputation as a skilled statesman able to build coalitions and effectively work across party lines to achieve results. Prior to his election to the United States Senate in 1985, Bond served as Missouri state auditor and two terms as Missouri's governor.
In 1972, at the age of 33, Bond became Missouri's youngest governor in history. As governor, he helped expand the Parents as Teachers program statewide.
Bond served four terms on the U.S. Senate. As vice chairman of the Senate Intelligence Committee and a senior member of the Senate Appropriations Committee, he was known for his efforts to reform the intelligence community, provide support for a strong and well-equipped U.S. military, and improve care for veterans.
Bond has been recognized as a leading advocate in the promotion of plant biotechnology to meet the growing global demand for nutrition and food. He served on the board of the world-renowned Donald Danforth Plant Science Center.
Bond is the founder of KBS.
A sixth generation Missourian, Bond was born in St. Louis and grew up in Mexico, Missouri. He graduated cum laude from the Woodrow Wilson School at Princeton University and received a law degree from the University of Virginia, where he graduated first in his class.