The Board of Governors' Award for Excellence in Public Affairs recognizes faculty and staff who excel at integrating the public affairs mission within their work.
---
Nominations begin Jan. 30, 2023 for 2023-24 recipients
This award focuses on the recipient's on-campus related activities and should have evidence of distinctive work and accomplishments in support of the University's public affairs mission.
Up to three faculty and three staff are selected annually. Recipients will receive recognition by the Board of Governors and a $1,500 to be used toward supporting their work, activities or related public affairs projects within the University.
Nominees must be full-time Missouri State employees with a minimum of 3 years full-time employment at the time of nomination.
Each academic college including Library Services and the West Plains campus can submit only one faculty for award consideration.
There is no limit to the number of staff that may be nominated. Nominations may be submitted by any campus employee or member of the public.
Questions & Contact Information
For assistance, please contact Stacey Trewatha-Bach, Coordinator, Office of Public Affairs Support at 417-836-8832 or Dr. Keri Franklin, Associate Provost for Student Development & Public Affairs.
Congratulations to the 2022-2023 recipients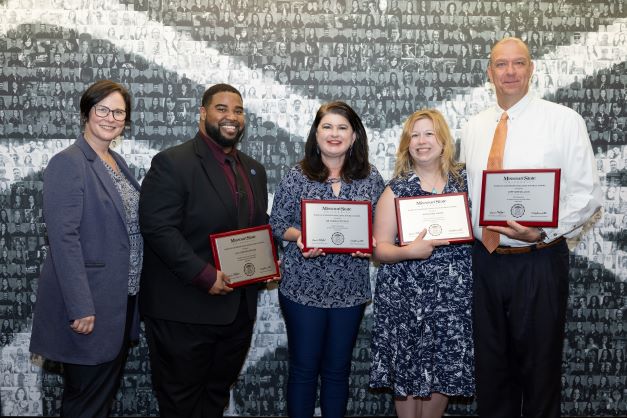 Shown from left Dr. Keri Franklin and awardees Dr. Stephen Spates, Dr. Diana Piccolo, Kathleen Hains and Jeff Grevillius. Not picutred is awardee Dr. Shurita Thomas-Tate.