The Board of Governors' Award for Excellence in Public Affairs is established at Missouri State University to recognize faculty and staff who excel at carrying out the public affairs mission.
Call for 2022-23 nominations begins January 25, 2022.
Nominees should have evidence of distinctive work and accomplishments in support of the University's Public Affairs mission. Up to three faculty and three staff are selected each year. Recipients will receive a framed certificate, recognition by the Board of Governors and a $1,500 grant award to be used toward travel, research and/or activities related to their public affairs projects within the University. Nominees must be full-time Missouri State employees with a minimum of 3 years full-time employment at the time of nomination.
Staff Nominations
There is no limit to how many staff nominations can be submitted for consideration. Nomination letters must be emailed or campus mailed to Dr. Keri Franklin no later than March 4, 2022. The award's coordinator will follow-up with each staff nominee to ensure the formal application materials are completed by the April 11 application due date. View the requirements link to the right.
Faculty Nomination Options
Each College may submit forth one faculty nominee, including the Meyer Library and the West Plains campus. Colleges have two options for submitting their faculty nominee: 1) they may choose their nominee by college committee or 2) a Dean may directly submit a faculty nominee, at their discretion.
Faculty nominee submitted via Dean: By March 11, 2022 the Dean must submit the faculty name by email to Dr. Keri Franklin. A nomination letter may accompany the submission, but is not required. The award's coordinator will follow-up with the faculty nominee to ensure their formal application materials are completed by the April 11 due date.
Faculty nominee submitted via College Committee: By April 11, 2022 the final nominee's name, along with their FULLY completed formal application materials, must be submitted to Dr. Keri Franklin by email or campus mail. Please contact the award's coordinator for questions/confirmation regarding application materials. A sample college committee timeline is provided in the Faculty Info and Timeline navigation link.
Questions & Contact Information
For assistance, please contact Stacey Trewatha-Bach, Coordinator, Office of Public Affairs Support at 417-836-8832 or Dr. Keri Franklin, Associate Provost for Student Development & Public Affairs.
Congratulations to the 2021-22 Recipients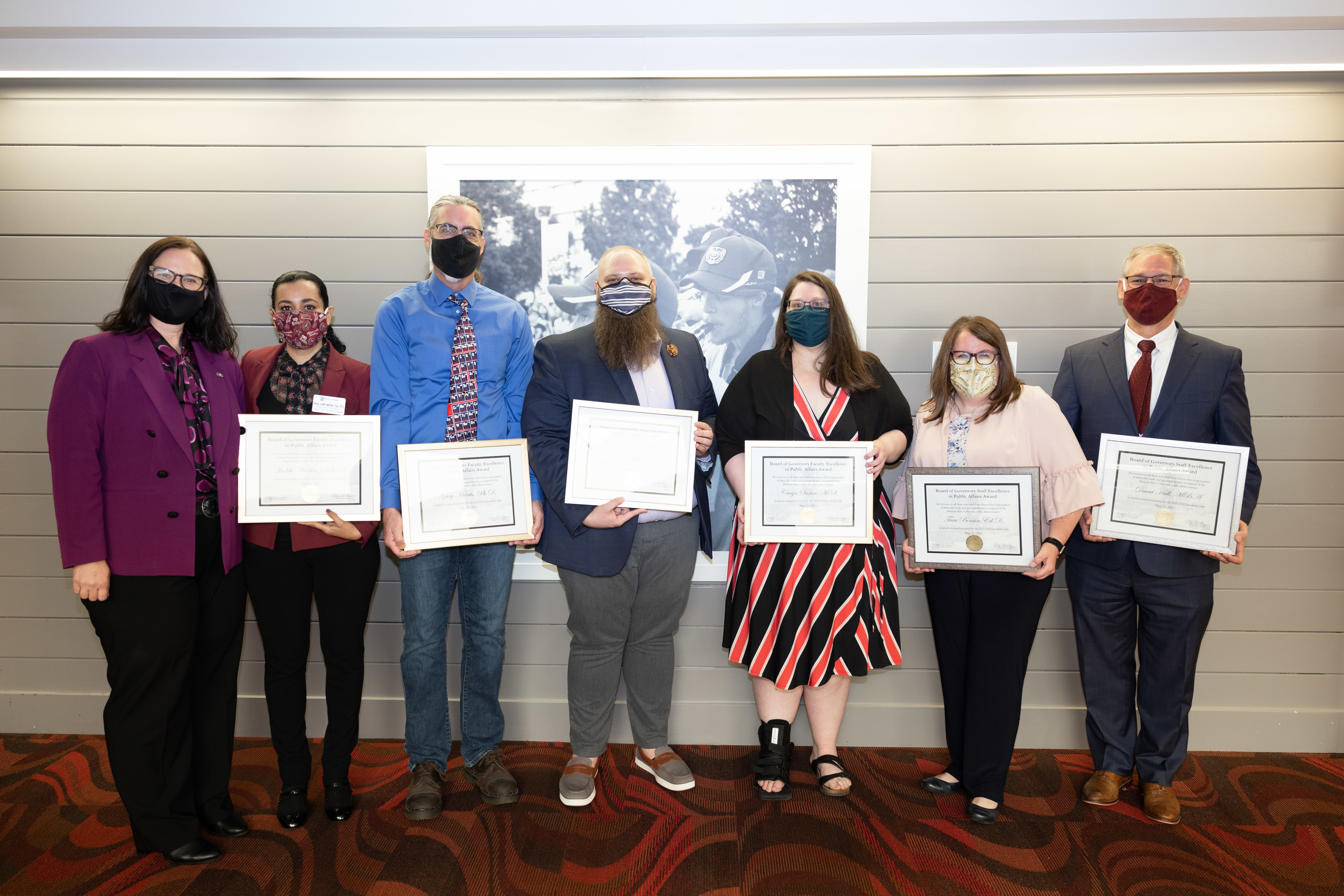 Shown left to right: Dr. Keri Franklin, Dr. Judith Martinez, Dr. Gary Meints, Travis Schilla, Caryn Saxon, Dr. Tara Benson and David Hall
Faculty
Assistant Professor, Modern and Classical Languages
Judith Enyeart Reynolds College of Arts and Letters
Associate Professor, Chemistry
College of Natural and Applied Sciences.
Senior Instructor, Criminology
College of Humanities and Public Affairs.
Staff
Associate Director of the Plaster Student Union and Director of Student Engagement
Division of Student Affairs
Director of Safety
Administrative Services Division
Coordinator of Leadership Development and Programming
Residence Life, Housing and Dining Services